So I'm back from my 1 day trip. I didn't have time to think because I slept all throughout both bus trips.
*kamusta naman!*
Yesterday was a whirlwind of emotion. I just went with it. Now I'm trying to deal with the excess emotion. This is me eternally confused.
I'm playing this over and over again to remind myself what I should be doing instead of moping around and feeling all sorts of
feelings
.
And while I'm stuck, I find posts like this from Vera:
The Holstee Manifesto
. Isn't that amazing? It's like the universe is helping me out.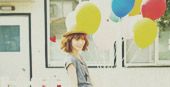 This post is part of the
Musings
series where I share stories of inspiring people, culture, concepts and beliefs.
Feel free to browse my other posts and leave your comments. See you! ( ^-^)/★*☆
.