I saw this video shared by Ms.
Daphne
. It made me think of my Mom. She went to NY when I was in high school. Since then we have not spent Christmas together - 10 years! That's why although I like the Christmas season, I don't like the actual Christmas day itself. After attending a number of pre-Christmas parties, going home to an empty house is painful. I used get invited at a friend's house or my relatives but after a while it became too troublesome so I just spent it alone.
These are things I can't change so I have learned to just accept things as they are. Still I wish all our worries will go away so my Mom can finally come home for good.
Love you & Merry Christmas Mom!
*sniff*
note: YES its a viral campaign. My take on this is, the company could have done the usual giveaway, raffle, promo etc., but they chose this kind of campaign. Result is it brought 3 families together this Christmas. For some it may not be much, for others it means the whole world.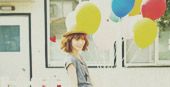 This post is part of the
Musings
series where I share stories of inspiring people, culture, concepts and beliefs.
Feel free to browse my other posts and leave your comments. See you! ( ^-^)/★*☆
.