One of my life-long
dream
is to live in a house filled with books, own a bookstore, or get trapped inside a library. haha! ( ´ω`)
I used to beg my Mom to buy me books when I was younger but we didn't have the funds. ( ̄へ ̄)Seeing how I love books, my Mom decided to buy me a set of encyclopedia which took her years to pay. I learned so much about the most random things. Once I see something interesting on TV I would dash to the bookshelf and read all about it.
*sniff*
I'm so glad there are 2nd hand bookshops and that we had been blessed with a much comfortable life now.
(Thank YOU for the blessings. ☆彡)
I'm currently building a mini library. Filling it with books I should have read when I was a child. The idea of living with books, it being a big part of life is something I want my future to have.
Tucked high above the bustle of the street, Michael's secret secondhand bookshop is a mecca for those who savor the story behind the volume.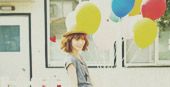 This post is part of the
Musings
series where I share stories of inspiring people, culture, concepts and beliefs.
Feel free to browse my other posts and leave your comments. See you! ( ^-^)/★*☆
.