Usually it doesn't bother me that I don't have an active social life. Although sometimes I question my way of living when I see how other people live theirs *cough*facebook*cough.
Once I calm down though, I realize that I still prefer my hermit ways...
if you're happy in your head then solitude is blessed and alone is okay.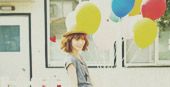 This post is part of the
Life
series where I share stories of inspiring people, culture, concepts and beliefs.
Feel free to browse my other posts and leave your comments. See you! ( ^-^)/★*☆
.